a compilation of random thoughts and time consuming bantering from the ponderous mind of an ordinary person
Make me think, send me a question: http://www.formspring.me/paperdollie
L i n k s
• personal
• music
• funnies
• etc

 person(s) reading


Blasian babies! Take a good look at them, their replicas of my future kids :)
fuckyeahkidulzzang
/ by:
jfckinweezy
who is the cutest person you know?
Has to be this cute little peanut of a kid named Jonathan. He's two and goes to my mom's daycare center. He's much more reserved and calmer than most of the other kids. Instead of joining in on a game of tag, he can usually be found singing into part of the jungle gym, enchanting an invisible crowd with his baby soft voice. Occasionally, an intervention (by me) consisting of a 'NO JONATHAN' is require when he begins licking the equipment like any curious two year old. But don't let his elderly/odd demeanor fool ya'! Once in a while he enjoys a game of catch and release, during which he toddles as far as his short little legs will carry him before he purposely stops so that I can catch and tickle him.
A cute mini-film produced by Kurt Schneider that commemorates not only his own graduation from college, but the significance of graduating. This film is great, but it also marks the sad and abrupt ending of the web-series "College Musical," which I was a major fan of.
Kurt (not that you'll ever read this), I've been waiting for nearly 10 months now to find out what happened to Scotty and his man-child syndrome. Just thought you should know.
5 o'clock Shadow
The only man that can pull off a 5 o'clock shadow the way it ought to be pulled off — lady and gents, I present to you, Diego Luna:
I'm not one to have a celebrity crush, but ever since I saw him at the 2009 academy awards, I realized that I had room in my life for an obsession or two.  He's not much of a holly wood hot-shot (he is in mexico though), but the guy's not without merit to his label as an A-list actor/director.  Just check him outfitted in a flamboyant satin robe with polished red tips and an over grown mullet as he played the role of Harvey Milk's gay lover in the movie "MILK".
Classy.  Too bad he's married.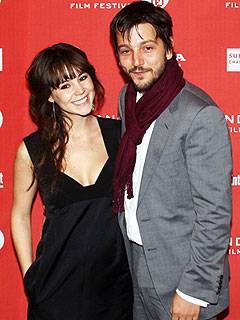 Diego Luna and his gorgeous wife Camilia Sodi
A Belated Update for Last Saturday
There's nothing like manhattan at night; well, so says the queens bred manhattan outie (aka me).  The illustrious lamp posts lining the concrete sidewalks produces a scene one would pull from a film noir — the looming sillouhettes of buildings gently highlighted by soft bursts of incandescent light.  So was the scene as Candace, my sister and I walked with linked arms to see the English rendition of the Japanese play, 'Enjoy'.   The story takes place in a manga shop in Tokyo and centers around the social disconnect between a group of young 20 somethings and those fast approaching 30.  I had read a handful of mixed reviews on the off Broadway production; some critics said it was hard to follow because of complex digressions in the dialouge and the sudden shift in narrarators while others said it was brilliant — I agree with both claims.  After seeing the play myself, I can say that the off Broadway production definitely lacked the stage glamour of Broadway; but the deliberate "lack" only served to enhance the meaning of the dialouge, characters, and storyline.  Prior to the play (yes, I know i'm time traveling a bit; bear with it) we ate Alice's tea Cup.  I'd been wanting to try it out for the longest time, and when I found out it was in the same area as the theater, I couldn't help but jump at the chance.  My sister and I ordered a pot of tea and the 'Mad Hatter', a stacked serving platter laden with the goods: finger sandwiches, an assortment of cookies and scones, and mocha chip cake.  I'd describe the meal as 'finger lickin' good', but the unrefined image of me licking my grubby fingers might ruin, if not already, the lady like standard I'm suppose to uphold and might even unsettle a few stomaches.  So for the sake of saving face and gastric juice, lets just say it was delicious.
Plus I'm pretty sure KFC already has dibs on the slogan. 
**I originally wrote this last Sunday, but due to my computer's untimely spazz attack when I hit the 'create post button', it erased everything.
Themed by a drowsy tigress for Tumblr.